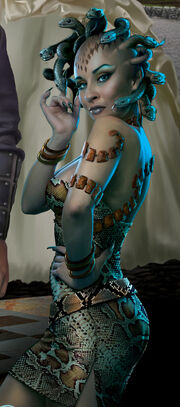 Gorgons are creatures in the Nameless World similar to the Gorgons of Greek mythology. They were originally created by the Faerie as hybrid creatures to be used as terror weapons in the Faerie War. To this day, Gorgons worship the Faerie as gods.[1]
They are described as muscular, having a human body but with serpentine qualities to their face, and with a teeming mass of snakes for hair.[2]
Unlike the Medusas, Gorgons are rational, intelligent creatures.[3] Both Gorgons and Medusas have magic in their bodies which permit them to turn enemies into stone. Gorgons are capable of reversing the petrification, but few human sorcerers are capable of doing so.[4] Necromancers sometimes try to kidnap Gorgon children in order to use their bodies for potion ingredients or alchemical products.[5]
Gorgons receive much prejudice in the Allied Lands, and are barred from most human settlements.[6] They tend to be isolated nomads, and most live on the outskirts of the Desert of Death.[7] They require little water to survive.[8]
Though not overly hostile, they react badly when disturbed. Gorgons highly value privacy,[9] and intruding upon someone else's possessions is considered worse than murder.[10]
References
Edit
Ad blocker interference detected!
Wikia is a free-to-use site that makes money from advertising. We have a modified experience for viewers using ad blockers

Wikia is not accessible if you've made further modifications. Remove the custom ad blocker rule(s) and the page will load as expected.